This article is a stub.
This article is shorter than it should be. You can help the Encyclopedia of Cryptozoology by expanding it with relevant information.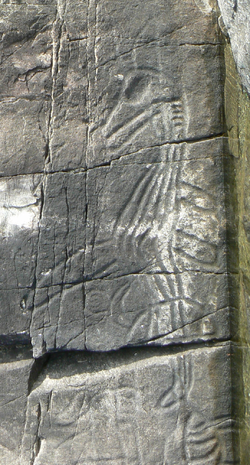 The Sproat Lake monster is a cryptid lake monster reported from Sproat Lake, Vancouver Island, British Columbia, Canada. [1] John Kirk reported a sighting of what he believes to be this monster in April 1987:[2]
| | | |
| --- | --- | --- |
| " | Sproat Lake is also a body of water with an unknown animal inhabiting it. In April, 1987 my family and a friend saw two large black humps swimming parallel with the shore at the northern end of the lake. We watched it for about minute. At Sproat Lake there are famous pictographs depicting an unknown creature known in the rest of the province as a Naitaka. This is the same name given to Ogopogo. | " |
A Hupacasath petroglyph on a rock face by the lake may represent this animal. The glyph has sometimes been identified as an image of the ogopogo, which is reported from a different location.
Notes and references
[
]
↑ Kirk, John (1998) In the Domain of Lake Monsters