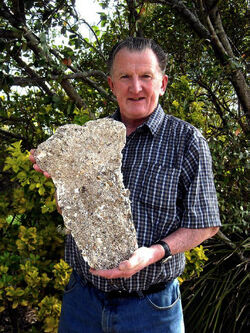 Rex Gilroy (born 9 November 1943) is an Australian cryptozoologist, paranormal researcher, conspiracy theorist, and author who, along with his wife Heather Gilroy, has investigated the yowie, the thylacine, the moa, the jogung, the Queensland tiger, the warrigal, the burrunjor, and alien big cats,[1] as well as UFOS. He has also proposed a 'lost' Australian civilization and medieval European and Amerindian exploration of Australia.
He had a sighting of the yowie on 7 August 1970. He "was eating lunch in a clearing near the Ruined Castle rock formation in the Blue Mountains, New South Wales, when a man-sized, apelike creature with orange hair ran across the open ground and gave out a scream".[1] In 1979 he claimed to have been called to a freshly ploughed field by a farmer, where he discovered thirty or so enormous lizard tracks, only one of which was in a condition to be casted.[1] In 2001, Rex and Heather Gilroy made plaster casts of what they claimed to be moa tracks, 9.5 inches long, in New Zealand.[1] The majority of the stories relating to the Australian giant monitor also come from Gilroy.[1]
Some of his cryptozoological theories include the yowie being a surviving Australian Gigantopithecus and certain alien big cats being undiscovered marsupial predators.[1]
Bibliography
Edit
Gilroy, Rex (1995) Mysterious Australia
Gilroy, Rex & Gilroy, Heather (2000) Pyramids In The Pacific: The Unwritten History Of Australia
Gilroy, Rex & Gilroy, Heather (2001) Giants From The Dreamtime: The Yowie In Myth And Reality
Gilroy, Rex & Gilroy, Heather (2004) Australian UFOs: Through The Windows Of Time
Gilroy, Rex & Gilroy, Heather (2005) Uru: The Lost Civilisation Of Australia
Gilroy, Rex & Gilroy, Heather (2006) Out Of The Dreamtime: The Search For Australasia's Unknown Animals
Gilroy, Rex & Gilroy, Heather (2007) The Yowie: Living Fossils from the Dreamtime
Gilroy, Rex & Gilroy, Heather (2009) Pyramids of Destiny: Lost Pacific Colonies of the Bronze-Age God-kings
Gilroy, Rex & Gilroy, Heather (2010) Blue Mountains Triangle
Gilroy, Rex & Gilroy, Heather (2011) Burrunjor! The Search for Australia's Living Tyrannosaurus
Gilroy, Rex & Gilroy, Heather (2011) Big Cats of the Australian Wilderness
Gilroy, Rex & Gilroy, Heather (2015) The Hawkesbury River Monster in Myth and Reality
Gilroy, Rex & Gilroy, Heather (2017) The Energy Being: ET Abductions from Beyond Time
Gilroy, Rex & Gilroy, Heather (2018) Living Dinosaurs! Reptilian Nightmares of Australasia
Gilroy, Rex & Gilroy, Heather (2018) UFO Dreaming: Australian Aboriginal Encounters with Extraterrestrials
Gilroy, Rex & Gilroy, Heather (2018) On Shores of Misty Lands: The Mediaeval European Discovery and Exploration of Australia
Gilroy, Rex & Gilroy, Heather The Jaguar and the Serpent: Lost Pacific Voyages of the Uru and Amerindians
External links
Edit
Notes and references
Edit