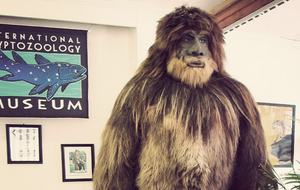 The International Cryptozoology Museum is a museum displaying various cryptozoological objects, located in located in downtown Portland, Maine, North America.
The Cryptozoology Museum was founded by Loren Coleman in 2003. Originally it was situated in the first floor of a house specifically bought for his collection of cryptozoological artefacts. The first exhibits displayed models, toys and souvenirs, footprint casts, as well as replicas of infamous hoaxes.
In 2009, the museum moved to a whole, official building nearby, in order to better accomadate the large collections.
Notable exhibits
Edit
Hair samples and casts
Edit
The exhibit features a number of pieces of evidence for various cryptids, mostly hominid apes like Bigfoot and the yeti. Included are hair samples of the yeti, Bigfoot, the yowie, and the orang pendek; yeti scat; and a thylacine footprint cast.
Notes and references
Edit
External links
Edit