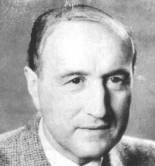 Ingo Krumbiegel (25 February 1903 - 11 October 1990) was a German mammalogist, doctor, and animal rights activist who investigated the waitoreke, water lions, Wood's argus,[1] and the Andean wolf.[2] His book Von neuen und unentdeckten Tierarten (1950) can be considered a precursor to modern cryptozoology.[1][3]
Krumbiegel made his first foray into the study of mystery animals in 1947, when he wrote a study of the coje ya menia, which he concluded was either a living sabre-toothed cat or a giant monitor lizard, and in 1950 he wrote an article on the waitoreke.[4]
According to Bernard Heuvelmans, Krumbiegel's Von Neuen und Unentdeckten Tierarten (1950) was the first attempt at writing a general overview of hitherto-unknown animals. He listed about a dozen animals rumoured to exist, including the king cheetah, the black tapir, De Loys' ape, water lions, sea serpents, the waitoreke, a small spotted bushbuck of East Africa, a goral of northern India, Wood's argus, and the Queensland tiger.[4]
Notes and references
Edit