This article is a stub.
This article is shorter than it should be. You can help the Encyclopedia of Cryptozoology by expanding it with relevant information.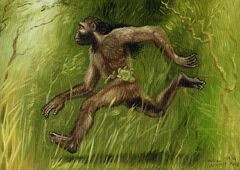 Cryptohominids, the subject of hominology, have been reported from most regions of Africa.[1][2][3][4] Some cryptozoologists have drawn connections between African hominids and those reported from other continents.[5]
Notable researchers of African hominology have included Charles Cordier, Bernard Heuvelmans, Jacqueline Roumeguère-Eberhardt, and Gareth Patterson, and some of the principal works covering the subject are Les Bêtes Humaines d'Afrique (1980) and Les Hominidés Non Identifiés des Forêts d'Afrique (1984). Except for chapters in Abominable Snowmen: Legend Come to Life (1961) and Beyond the Secret Elephants (2020), little research has been published in English.[6]
Notes and references
[
]
↑ Heuvelmans, Bernard (1955) On the Track of Unknown Animals, Routledge, ISBN 978-1138977525
↑ Sanderson, Ivan T. (1961) Abominable Snowmen: Legend Come to Life, Chilton, ISBN 978-1948803038
↑ Heuvelmans, Bernard (1980) Les Bêtes Humaines d'Afrique, Plon, ISBN 978-2259005609
↑ Roumeguère-Eberhardt, Jacqueline (1984) Dossier X: Les Hominidés Non Identifiés des Forêts d'Afrique, Robert Laffont, ISBN ISBN 9782221224649
↑ Coudray, Philippe (2009) Guide des Animaux Cachés, Editions du Mont, ISBN 978-2915652383
↑ Arment, Chad "Book Reviews,"

BioFortean Notes

, Vol. 7 (2020)