Jurassic World: Dominion Dominates Fandom Wikis - The Loop
Play Sound
This article is about a confirmed
hoax
The subject of this article, be it purported cryptid or a supposed event, is known to have been deliberately made up.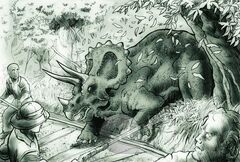 The Great Brontosaurus Hoax, also called the Lepage-Gapelle hoax or Lepagapelle hoax was a famous 1919 hoax, in which two fake sightings of neodinosaurs were reported from the southern Democratic Republic of the Congo, possibly inspired by recent reports of a Rhodesian cryptid called the chipekwe. The hoax, which also featured claims of a reward offered by the Smithsonian, provoked at least one man, Captain Leicester Stevens, to hunt for the Brontosaurus in the Congo.[1][2] Although the dinosaur in the hoax was labelled a Brontosaurus by the press, the original description was clearly intended to refer to a ceratopsian dinosaur.[3]
Hoax
[
]
In 1919, F. W. FitzSimons of South Africa's Port Elizabeth Museum received an account of "an extraordinary monster" from a railway engineer named Lepage, who was then working in the Belgian Congo. The account was transmitted not by Lepage but by a missionary named J. J. Raymer, who wanted FitzSimons' opinion on the animal's identity. Lepage claimed that he had come upon the animal while hunting in October, and that it had charged at him. After he escaped, Lepage observed it through binoculars, describing it as around 24' long, with a pointed snout, horn-like tusks, a short horn on its nose, hooves, and a scaly hump on its shoulders.[1]
Soon afterwards, the Rhodesian press reported that a Belgian prospector and big game hunter named Gapelle claimed to have seen a very similar animal in the swamps of the Belgian Congo, with large scales, a thick kangaroo-like tail, a humped back, a single horn, red spots, and yellow stripes. Gapelle fired on the animal, which disappeared into the swamp. According to this report, the Smithsonian Institute sent out an expedition to search for the animal, which met with disaster when the train they were travelling on was derailed. A Smithsonian expedition in the region had indeed suffered such an accident, but they were not searching for dinosaurs.[1]
Reactions
[
]
The saga's newspaper coverage prompted readers who had travelled in Africa to publish their own information on the subject, including data on the chipekwe from Zambia.[3][1] "A well-known big game hunter" wrote to the Central News of Johannesburg claiming that he had once shot a similar animal in Uganda, but its body was lost in the river. A woman named Muriel Dayrell-Browning reported stories of huge swamp monsters and pterosaurs, possibly an early reference to the kongamato, in Zimbabwe,[1] and Percy Fawcett wrote to the Daily Mail reporting a supposed dinosaur sighting made by a friend of his in Bolivia.[4]
Exposure and origin
[
]
An Australian engineer named David Le Page was working in Rhodesia at the time of the hoax.[5] In 1921, a fellow of the Royal Geographical Society named Mrs H. L. Lees claimed that Le Page had hoaxed the entire incident himself. According to Lees, who was present when he first told the story, Le Page, having returned from a hunting expedition empty-handed, told Raymer, here identified as an employee of the American Drilling Sondage rather than a missionary, that he had seen "an animal the like of which he had never seen before" in a nearby swamp, calling it a gazika. Raymer subsequently sent an account of Le Page's claim to FitzSimons, who in turn released the information to the press.[6] A different version of this story was given by Arthur "Ingeinyama" Davison in 1950. According to Davison, Le Page (here called David La Page) initially told his story to a party of missionaries, one of whom wrote up the story as true. According to Davison, Le Page subsequenty became known throughout Africa as "Brontosaurus Dave".[7] This version of the hoax's origin took on a life of its own, and was later given as the explanation for a 1901 chipekwe sighting reported by a European hunter.[8]
Notes and references
[
]
↑ 1.0 1.1 1.2 1.3 1.4 Heuvelmans, Bernard (1978) Les Derniers Dragons d'Afrique, Plon, ISBN 978-2259003872
↑ Mackal, Roy P. (1987) A Living Dinosaur? In Search of Mokele-Mbembe, Brill, ISBN 978-9004085435
↑ 3.0 3.1 Heuvelmans, Bernard (1955) On the Track of Unknown Animals, Routledge, ISBN 978-1138977525
↑ Shuker, Karl P. N. (2016) Still In Search Of Prehistoric Survivors: The Creatures That Time Forgot?, Coachwhip Publications, ISBN 978-1616463908
↑ Who's Who in Mining and Metallurgy (1910)
↑ "Congo Fiction: Gazika or Brontosaurus," The Farmer and Settler (11 March 1921)
↑ Davison, Arthur "Subscriber Number One," The Northern Rhodesia Journal, Vol. 1 (1950)
↑ Jackson, Frederick George (1935) The Lure of Unknown Lands: North Pole and Equator