This article is a stub.
This article is shorter than it should be. You can help the Encyclopedia of Cryptozoology by expanding it with relevant information.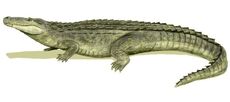 The giant caiman is a cryptid crocodilian reported from the rivers and swamps of Brazil, Bolivia, Ecuador, Peru, and Venezuela.[1][2][3] Regular caimans may rarely grow up to 16', but Amazonian Indians describe individuals up to three times as large.[1] According to Harold T. Wilkins, they are reputed to tear apart small boats and eat the occupants.[4] Arnošt Vašíček speculates that these caimans may be surviving descendants of Purussaurus, a 36' long caiman found in South America until the Late Miocene.[1]
In a story recounted by Wilkins, an Indian who was hypnotised by a giant anaconda had his life saved when a giant "saurian" erupted from the water and attacked the snake, killing it after a fierce battle.[4] Karl Shuker writes that this animal may simply have been a normal caiman, but lists it as a possible freshwater marine saurian on account of its description.[5]
Notes and references
↑ 1.0 1.1 1.2 Vašíček, Arnošt (2005)

Planeta Záhad: Tajemná Minulost

, Mystery Film, ISBN 9788023954845
↑ Mareš, Jaroslav (2005) Kurupira: Zlověstné Tajemství, MOTTO, ISBN 9788072462995
↑ Drinnon, Dale A. (2009) "Amended Cryptozoological Checklist"
↑ Shuker, Karl P. N. (2016) Still In Search Of Prehistoric Survivors: The Creatures That Time Forgot?, Coachwhip Publications, ISBN 978-1616463908