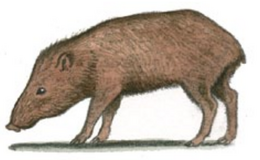 Country reported: Ecuador
The esakar-paki is a cryptid reported from the Sangay National Park and the Trans-Cutucú region of Ecuador. Reports of it were gathered by Spanish cryptozoologist Angel Morant Forés, who described it as a species of peccary.[1]
Description
Edit
According to Shuar informants, the esakar-paki "is the smallest of all peccaries, has reddish fur and lives in troops made up of 50 or 60 individuals". They identified it with Forés photograph of a juvenile collared peccary. Other informants said that it "resembles very much the white-lipped peccary except for the fact that it is much more agressive. According to them, esakar-paki troops are leaded by a small, old individual, reddish in colour, which is particularly fearless of humans."[1]
Sightings
Edit
A Shuar speleaologist named Marcelo Churuwia claimed to have been chased by a troop of esakar-paki "in the rainforest on the Ecuador-Peru border and had to climb a tree for safety. Churuwia said the attacking animals were reddish-brown in colour."[1]
Similar cryptids
Edit
Notes and references
Edit