This article is a stub.
This article is shorter than it should be. You can help the Encyclopedia of Cryptozoology by expanding it with relevant information.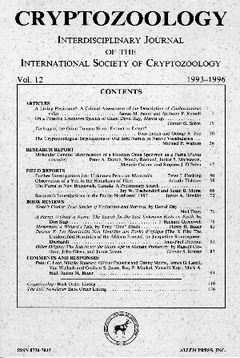 Cryptozoology: Interdisciplinary Journal of the International Society of Cryptozoology was a scientific journal published by the International Society of Cryptozoology from 1982 to 1996.[1][2] It published original articles, research reports, field reports, book reviews, and comments and responses.[3] In February 2021, all twelve volumes of Cryptozoology were made available online by the Swedish Archives For the Unexplained with the permission of Christine Janis, last Acting President of the ISC.
External links
[
]
Notes and references
[
]