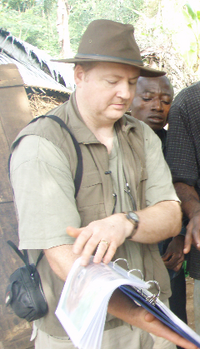 William J. "Bill" Gibbons (born 1958[1]) is a British[2] cryptozoologist who has investigated the mokele-mbembe, the emela-ntouka, and other dinosaurs in the Congo, as well as reports of surviving dodos on Mauritius.[2] He has also brought to wider attention reports of the dodu, the Nepal dragon, the ngoubou, the ropen, and the j'ba fofi.[3]
Biography
Edit
Gibbons grew up in Scotland, and first became interested in mysterious animals after seeing a film adaptation of The Lost World and wondering if dinosaurs really did still survive in remote areas of the world.[2] He has led four field expeditions to the Congo, in 1985-6, 1992, 2001, and 2003,[3] and mounted expeditions to Mauritius in 1990[2] and 1997 to investigate reports of living dodos.[4]
He has degrees in religious education from Immanuel Baptist College, and a phD in cultural anthropology from Warnborough College, Oxford.[1]
Bibliography
Edit
Gibbons, William J. (1999) Claws, Jaws and Dinosaurs
Gibbons, William J. (2006) Missionaries and Monsters
Gibbons, William J. (2010) Mokele-Mbembe: Mystery Beast of the Congo Basin
Notes and references
Edit