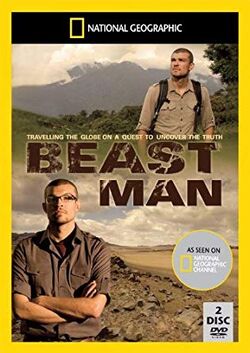 Beast Hunter (released in the UK as Beast Man) is a 2011 National Geographic television series, hosted and narrated by Pat Spain, in which Spain travels to various countries to investigate five different cryptids.
Notable investigations and findings
[
]
During the investigation into the mapinguari, Spain blasted a modified sloth call in the jungle, and believed he may have heard a response.[1]
Reception
[
]
Episodes
[
]
The episodes were both aired and released under different names and in a different order in the United Kingdom: "African Swamp Monster", "Mongolian Death Worm", "Sea Monster", "Ape Man of Sumatra", and "Amazon Nightmare".
DVD releases
[
]
Notes and references
[
]