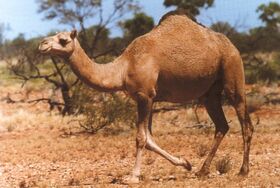 Other names: Big one bullocky
Country reported: Australia
The Australian camel was a cryptid reported from Australia's Northern Territory, allegedly a native species of camel reported prior to the first official importations of camels in 1840.[1] According to E. Lloyd:[2]
" I have to record a tradition that exists among the white people in the north country, with reference to an animal that sometimes appears, much to their alarm. This is no other than a camel. It is said, amongst the other wise things done by the sanguine people that first settled the land, that one gentleman, arguing from the natural dryness of the climate, that it was a country similar to the Zahara, or Great Desert, and required animals of the same powers of endurance to travel over it, resolved upon doing nothing less than importing a camel, from which he anticipated reaping a fortune. However, calamitously, the camel, after its arrival in the colony, got lost, or ran away into the bush, and for a long time afterwards was never heard of. It is however stated, that he appeared to some shepherds, while tending their flocks, and who were not a little surprised, not to say amazed, at the unlooked-for visitation.
"The blacks, in terror, fled at his approach, exclaiming, "big one bullocky! big one bullocky!" It is likewise stated, that the forlorn camel, for a long time roamed through the country, like the wandering Jew, seeking society but finding none; sometimes appearing unintentionally and unexpectedly to shepherds and black fellows, and being innocently the cause of great alarm, until at last another outcast left the realms of social intercourse, and cast himself upon his own energies. This was a harmless donkey, one of three which had found their way into this province. Having strayed from his sphere, like a comet, he took an orbit of his own, exceedingly eccentric, until the two forlorn and wandering planets came within the reach of each other's attraction, and were brought into contact, the result of which is, that they now roam the forest together, alike forsaken, and irrevocably lost.
Aborigines in the north of the country also reportedly saw the occasional solitary camel, rumoured to have been brought by European settlers, perhaps as early as the 1830's.[2] The first camel officially imported to Australia came from the Canary Islands in 1840, but it is possible that a few camels were imported before this, unrecorded.[1]
Notes and references
Edit